Dora Luz Posada [3] (née Ramirez) [4] is the mother of María and ex-wife of General Posada.
History
At some point in her life, Dora met Jeronimo Posada, married him and they had at least two children, one of whom was her daughter María. To whom she gave a necklace that she always uses [5].
For some reason, Dora divorced her husband and moved to Barcelona, Spain. Possibly she was took to her other child with her, since Maria is never seen in the company of her sibling.
Even so, she kept in contact with General Posada and María, in fact she was who picked up her daughter at the San Ángel´s train station to take her to Spain (and she photographed María and her friends, Manolo and Joaquín, from one of the train's wagons) [6]. So, it is possible that Maria was living with her mother during her ten years studying abroad.
Physical Appearance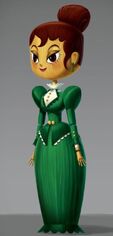 Originally, Dora was going to appear in the film, and even had a design. She was a tall woman with brown hair combed in a bun and brown eyes. She wore an elegant green dress with a white collar, and green earrings on her ears.
But for some reason, ella was cut of the film and her design was used for a background character, a woman called "Amparo". With the only difference that Amparo has green eyes. So, her new design is unknown.
References
Community content is available under
CC-BY-SA
unless otherwise noted.